Bee Removal
Our warm climate combined with heavy rains provide an incredibly good environment for bees to thrive here in Tucson and the Southwest in general. As bees and wasps become more active when temperatures warm up out of the winter months, they look for areas in and around our homes to build their colonies.
If you have a bee or wasp problem in your home on your property, give us a call today.
Call our Bee Removal Specialists at 520-413-5429 – Open Saturday's and Sunday's!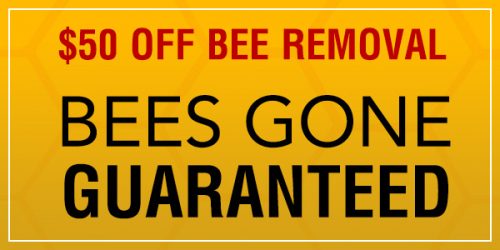 Trust the Pros!
The professionals at Got Bugs? Exterminating are ready to help you deal with your bee or wasp problem with prompt and affordable service that is 100% guaranteed. We will assess the situation at your property and provide a detailed overview of our plan to remove the bees, wasps or other stinging insects to keep you and your family safe.
Our complete removal service ensures that the bees are removed, but more importantly that they do not come back, which commonly happens in many DIY scenarios because home owners do not have the equipment or knowledge to ensure another colony does not simply take over the now empty hive or nest.
Don't wait – bees can rapidly build their structures and cause significant damage to the home if they are not dealt with quickly. This includes not only the hive itself, but the potential damage done by honey while it inside your home.
DIY Bee Removal Can Be Dangerous
Please do not attempt to remove bees or wasps as a home owner. Depending on the variety or aggressive nature of the hive or group of bees you are attempting to remove, this may be very dangerous. Not everyone that is allergic to bee stings are aware of how they will react. Our professionals are utilizing proper protective equipment to ensure their safety. Be aware that nearly 95% of all honeybees in Arizona have been Africanized, so you likely have not encountered a variety of bee that isn't considered an Africanized bee.
Got Bugs? Exterminating has technicians ready to help solve your bee problem NOW!
CALL TODAY! 520-413-5429
Take advantage of our Special Promotion on all bee removal services. Removal services start at $200, but can range based on the complexity of the removal or if there is a hive that must be removed from a structure.
Either call us directly or you can use the form on this page to email us and our staff will confirm and schedule an appointment right away.